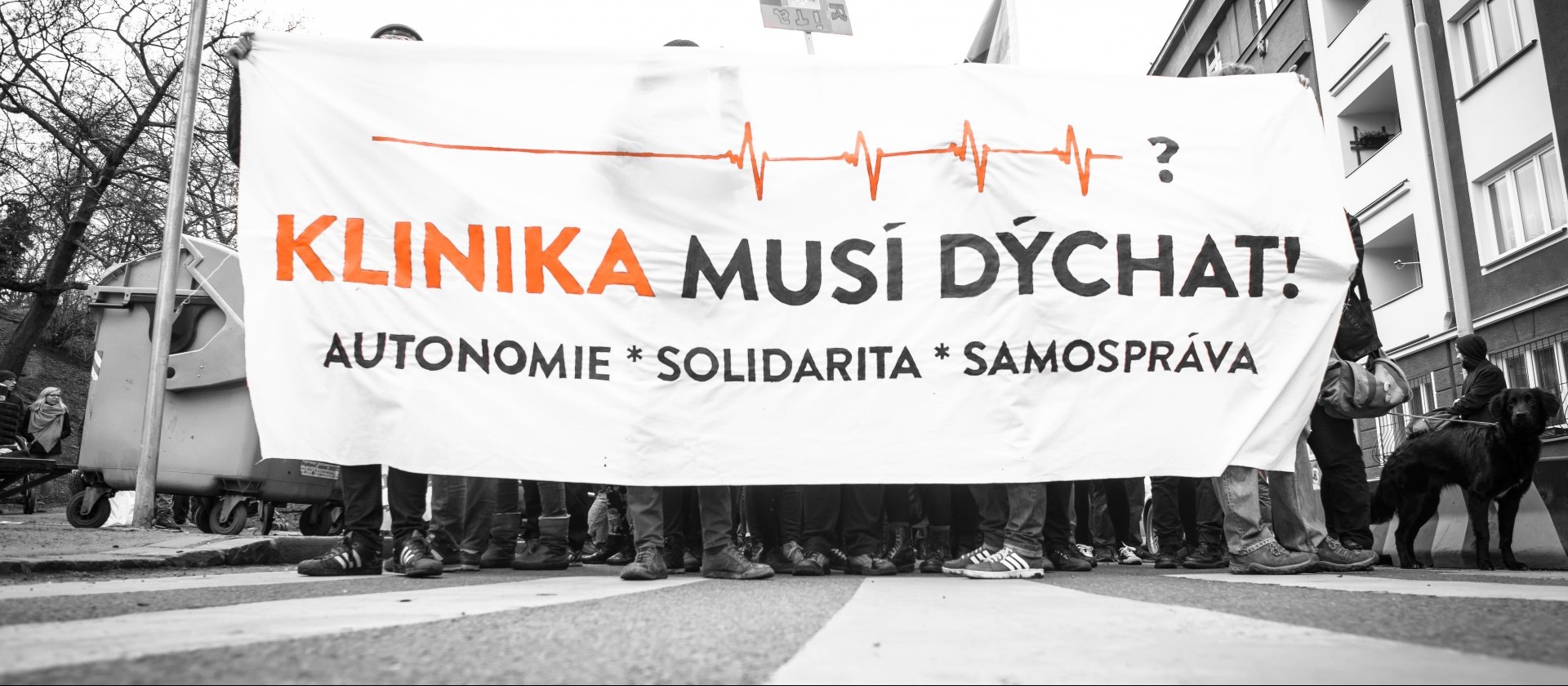 We share the call of our friends from Prague:
Don't ruin Klinika, don't ruin our city!
If nothing changes, Klinika will likely get evicted in summer. We can turn the tide – come on 9th of April on demonstration for Klinika!
Klinika still vibrates from such relations, meetings and events that find themselves trampled upon and exiled out of sight in the rest of the city. An abandoned, decaying home, collectively rebuild, open for sharing of our experiences and knowledge, alternative culture and the organization of radical politics, both of which don't back away before the brownish authoritarian swoosh around us.
However, we don't want to advertise here, neither amaze with some overview of our events or convince you of our own diligence. Instead, we want to convey the experiences we have gained over the last two years. Prague needs its Klinika and the people, determined to fill it with life – here we have them plenty.
On every road there were many obstacles and many slips, never was it easy for the self-organized social center to exist. If it comes to its end though, it won't be so much due to the naivete or impossibility of our goals, rather due to the diligence of people, whose deep-seated beliefs went unmoved by Klinika. The state institutions – Office for Representation of Government in Property Affairs (UZSVM) and the Railway Transport Administration (SŽDC), our current owner – finally came up together with a plan how to bury the social center.
Both of them own many empty houses, but chose to transfer our building under SŽDC for it to make itself new offices, but mainly with the goal of getting rid of squatters. According to the city's zoning plan there is no space provided here for offices. However, this problem is being solved with maneuvers typical for so-called "developers". And instead of a negotiation over temporary use of the building, at least until projects are prepared and zoning plans changed, Mr. Drmola (SŽDC's general director) cut our water, for which we have been always paying. The goal is not to save any money, neither better the running of the state institution. Rather, destroy the seeds of another city, different than the commercialized and alienating space we're used to now.
If nothing changes until then, it seems eviction looms over Klinika in summer. We are determined not to let it happen! We did not force ourselves into a conflict, but we would not back away from those, arrogant and threatening, full of power and possessions, who go out to destroy what they don't get. We want to reach a compromise and future for the social space our city needs. Come to fill the streets for day of action and show we won't let our spaces taken away!
Ohranimo Tovarno Rog, Akc Medika Przychodnia Skłot, UPInde, KLUB, Conne Island, ADM Amsterdam, Rote Flora, Hasi, Social Center Leipzig, Social Center Rog, EKH