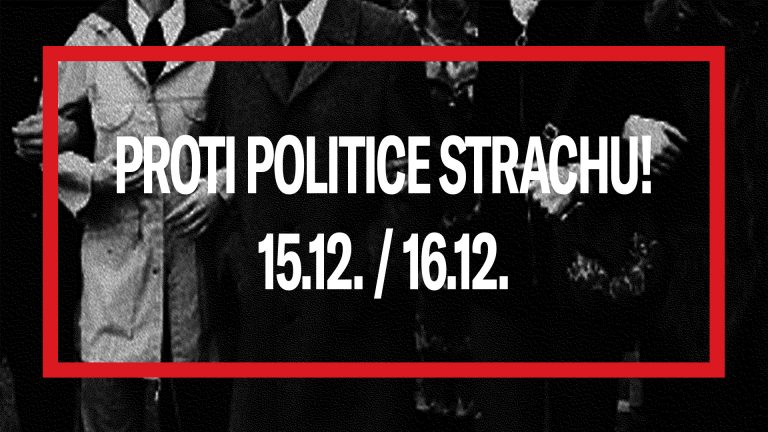 Hiermit teilen wir den Aufruf der Gruppe Initiativa Ne Rasismu
Against the politics of fear: Stand up against summit of far right
Prague will witness a gathering of the representatives of the Europe of nations and freedom (ENF) fraction, which regroups the right-wing populist parties in the European parliament on 15th and 16th of December. This grouping is constituted, among others, by the french National front (FN), the dutch Freedom party (PVV), the Free party of Austria (FPÖ) or the Italian Northern league (LN). The event is organized by the Czech Sovereignty and direct democracy (SPD) party of Tomio Okamura. Of the most notorious leaders, participation has thus far been confirmed by Marine Le Pen (FN) and Geert Wilders (PVV). It is as of yet unclear whether the leader of the Austrian FPÖ H. C. Strache, currently engaged in government-forming negotiations with the Popular party (Austrian christian democrats), will also be present.
Those parties profit from the crisis in which society finds itself to increase their influence. They try to redirect social tensions against the most powerless – groups whose voice is never heard in the media. In order to consolidate their power, they make use of scapegoats – lastly above all of refugees, but sometimes also of Roma, Jews, people of minority sexual orientations as well as of other groups who for various reasons don't square into their narrow criteria. Those parties excite the dark side of modern society – racism, islamophobia and antisemitism. They envision an Europe made of nation-states. Such a program, however, is a false alternative to the neoliberal reality of the European union. All the more so because far from solving the real problems of the existing system, it actually makes them worse.
We intend to stand up resolutely against such a future as envisioned by the far-right ENF. Thus, we, a coalition of radical-left and antiracist groups, call a demonstration in downtown Prague for Friday evening. Further, we call for a non-violent blockade of the TOP Hotel Praha in the Chodov quarter, where the right-wing populists conference will take place.
More info soon! Stay tuned!